Tom Mes
Agitator
The Cinema of Takashi Miike
FAB Press 2003
ISBN 1-903254-21-3
408 pages, 8 coloured fotopages
25 Euro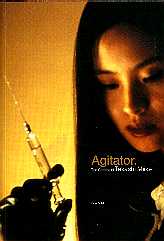 ORDER
'Fierce. Nonsensical. Vulgar. Powerful. These are words that could be used to describe Takashi Miike. But without doubt the most essential words are self-assured and clever', says Japanese cult-director Shin'ya Tsukamoto (TETSUO) about his colleague Takashi Miike, the prolific maker of films like AUDITION, DEAD OR ALIVE, ICHI - THE KILLER and GRAVEYARD OF HONOR. Miike's films regularly break taboos - and not only in the Japanese context. He is obsessed with bodily fluids, with bizarre sex and excessive violence - and yet all the Japanese star actors want to appear in one of his (many) films - to aquire the 'bad boy'-image which seems to be all to seductive...
The psychosexual thriller AUDITION is Miike's most disturbing and effective film to date. In this adaptation of Ryu Murakamis novel all the excess makes perfect sense - therefor it appears too logical that AUDITION 'sweetly cruel' diva dominates (literally) the cover of FAB press' new extensive volume on Takashi Miike.
FAB press - named after the legendary film magazine 'Flesh + Blood' - is very famous these days for publishing the film books 'the world was' in fact 'waiting for': heavily illustrated books on charismatic directors like Dario Argento, Mario Bava, Tinto Brass, Abel Ferrara and Lucio Fulci, or on underground phenomena like world cinema horror, erotic and splatter films. And somehow Miike perfectly fits into this universe.
Tom Mes' book 'Agitator' (named after Miikes film of the same title) is written in a very accessible style and illustrated with tons of rare images - even from Miike's lesser known films. Framed by annotations from Makoto Shinozaki and Tsukamoto there is a personal biography, even detailing Miikes childhood. Probably most interesting: Chapter 2 explores 'themes in the work of Takashi Miike' - the essential text on Miike so far. The 1991 to 1995 are subsumed as 'The Video Years' and contain interesting facts on Japan's adult film industry. The main part of the book are 230 pages of detailed film reviews ranging from 3 pages up to 10 pages (AUDITION). The reader will come to know even the least know and obscurest productions of this director's huge Oeuvre...
Two very interesting 'bonus-features' make this book a must-buy for all interested in Japanese cinema: in his production diary of ICHI Miike described the shooting process of his movie in form of a strangely funny screenplay... And in the 20-pages interview Miike says: "I can't pretend to know what I'm doing.' We bet... But anyway: His films are fun, and this man is a phenomenon. Even if there might probably stay only one film with us for very long: AUDITION.
Marcus Stiglegger