Skorneg
Foehn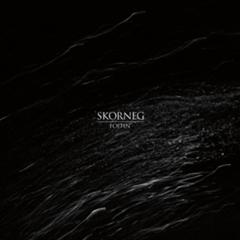 (Malignant 2014) CD
Collaborative effort between Frédéric Arbour of famed dark ambient label Cyclic Law and his solo project Visions, and Montreal based ambient/experimental project, Skinwell. Conceptually it oscillates around the northern elements of Glaciers, Winds and the exploration of such rugged territories, both physically, intellectually and spiritually. Musically, it brings us 4 tracks of massively scaled power drones, barren ambience, and black hole atmospherics, each piece starting in a more minimal fashion, then slowing escalating into a hypnotic spectrum of melting drift, ascending and descending tones, and undercurrents of distant industrial churn. Only time will tell if this is a one off project, but for now, drone enthusiasts and dark ambient purists can unite and revel in this fantastic offering. 4 panel digipak, lmtd 500 copies.
"...broad drones characterizing the grandeur and timelessness of glaciers, whispers of icy wind, and deep groans of ice floes. It's exceedingly well-done and carefully executed..." Teutonkhamat
"A definite recommend for those who think they can handle the bitter frost contained within this disc." Grimtower
"What a giant this "Foehn" is!...There are a few more atmospheric passages on "Foehn", but overall it's an absolutely uncompromising production. At the same time this album absorbs the listener 100%." Santa Sangre
"Through layers of deep drones and scattered, buried/manipulated sound effects, Skorneg is able to craft an absolutely massive, bleak soundscape..." Worms of the Earth.
"Skorneg stands for a real freaky and tormenting experience in the pure dark-ambient music. The album starts in an impressive way, but slowly grows until it reaches an ultimate climax of horror. A masterpiece in the genre!" Side-line