Excessive home cinema
A portrait of Barrel Entertainment/USA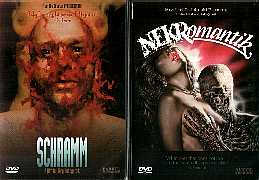 BESTELLEN
You may know it from Herschell Gorden Lewis's TWO THOUSAND MANIACS: The 'barrel entertainment'. Hammer some nails throught the walls of a berral, put a poor 'scapegoat' inside and roll it down the hill. No question: 'barrel entertainment' means spending leisure time the most macabre way... Located in the United States of American this small but fine label finally managed to provide us with some genuinely German film art: Joerg Buttgereits SCHRAMM as well as his two NEKROMANTIK-films which are at least more famous in the English-speaking countries than in Germany itself. It therefor came as no surprise that the source for ordering these strange and somehow great movies is located that far from their origin.
Barrel-bosses Brian Krueger and John Szpunar always try to get the best possible source material for their underground-cult-film-releases, and they usually add a lot of bonus features - the secret desire of every DVD-fan.
In the focus of Barrel Entertianment there are underground horror films, secret B-classics and new independent genre films and even documentaries. Most popular up till now may be Buttgereits NEKROMANTIK 2 (1991), the follow up to 1987's NEKROMANTIK. The two disc set includes the complete scores to both films including bonus tracks (e.g. the CAPTAIN BERLIN-song). Just like the first part this DVD is digitally mastered from the original camera negative under the supervision of producer Manfred O. Jelinski. The Film had been transferred with a Spirit DataCine high definition film scanner, the German language version was kept and provided with all new removable English subtitles, displaying an new stereo sound mix and original mono. There is a running audio commentary by director Jörg Buttgereit, co-author Franz Rodenkirchen, and actors Monika M. and Mark Reeder, which provides the audience with lots of amusing details around the shooting. Made by David Kerekes, the author of the Buttgereit-book, there is The Making of Nekromantik 2, including 25 minutes of behind the scenes footage in the English version and in the original German version, and fifteen minutes of never before seen behind the scene footage taken from the secret locker of Manfred O. Jelinski.
'Rise Up', a very dated video clip from German industrial-metal-band Die Krupps, directed by Jörg Buttgereit and starring Monika M., gives a short insight into Buttgereits activities after his last film SCHRAMM. And there is MANNE THE MUWIE, a very early Buttgereit Super-8 short, starring Bela B. Felsenheimer, the famous drummer of Germany's number-one-teenie-band Die Ärzte.
Over 100 behind the scene photos from the collection of Manfred O. Jelinski and Jörg Buttgereit, the theatrical trailers for all his films and liner notes by Buttgereit biographer David Kerekes and Jörg Buttgereit make this edition of the modern German film classic NEKROMANTIK 2 a must...
Similar elaborate editions of Buttgereits NEKROMANTIK and SCHRAMM exist, also containing lots of bonus. SCHRAMM, an intimate look inside the world of a Berlin based serial killer, is probably Buttgereits best film to date: a fascinating, dark and disturbing thriller reminiscent of HENRY - PORTRAIT OF A SERIAL KILLER. On this DVD you will find a commentry, the Making of (35 mins.) and the video clip of 'Die neue Zeit' by Mutter, the band of protagonist Florian Koerner von Gustorf. There is CAPTAIN BERLIN another legendary bud very childish early effort by Buttgereit. But the secret highlight of this dics may well be MEIN PAPI (My dad), Buttgereits sympathetic homage to his proletarian father who died in the early nineties. This film won the Elida favergé prize for a new cinematic gaze upon the human body. It is very tender, personal and melancholic. So let's hope for an additional relaese of DER TODESKING (The Death King), the second feature by Buttgereit.
Another highlight in Barrel's collection is the legendary and long 'lost' splatterfilm LAST HOUSE ON DEAD END STREET (1973/1981) by then film student Roger Watkins. This very rough and uneven film centers around a film student who manages to shoot a real snuff movie. The grainy film stock, the overdubbing and the fragmented cutting (the film was cut down to 78 mins. from a director's cut of nearly three hours) may hold a barrier for the viewer, but the film is worth a second look. It's a very bleak vision of the slowly dying hippie-era, inspired mainly by the Charles-Manson-myth. There is everything imagainable on this disc concerning the film and its director Watkins: a TV interview, a commentary, a 60-mins.-radio-interview, a strange homemovie detailing the Making Of, a stills gallery, a really great and insightful 36-pages-booklet by David Kerekes and some early short films by Watkins, documenting a very wild era of American avantgarde and underground filmmaking - sometimes silly, sometimes very enteraining. This very raw film may not be for every taste but is worth a look for the adventurous viewer (in the vein of TEXAS CHAINSAW MASSACRE and MARTIN). There is also a very odd music clip by Jim van Bebber / DEADBEAT AT DAWN, starring the cliché-metalband Necrophagia.
A lot of very interesting material is coming up on Barrel Entertainment. E.g. the DVD premiere of Barbet Schroeder's legendary documentary on the dirty old man himself, Charles Bukowski. Over four hours of the legendary poet as he talks about writing, women, drinking, and surviving. Shot in LA by Schroeder in 1982 (while he was trying to get BARFLY off the ground), THE CARLES BUKOWSKI TAPES is the definitive portrait of one of the world's most vital voices. "For those of you interested in madness, yours or mine, I can tell you a little about mine…" "An outrageously stimulating and unnerving all-night drinking session with a gutter eloquent barroom philosopher...One of the most intimate, revealing and unsparing glimpses any film or video has ever given us of a writer's life and personality," says Los Angeles Times.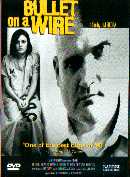 BESTELLEN
Representing authentic neo noir style there will be the DVD premieres of Jim Sikora's BULLET ON A WIRE and WALLS IN THE CITY. Sikora's work has been described as a cross between Jim Thompson and Jim Jarmusch. Especially the prison/psycho-thriller BULLET is recommended to all noir-aficionados.
And finally there will be Gerald Kargl's Austrian serial killer-drama ANGST (1980), a long awaited rerelease of a lost gem featuring a great electronic score by Klaus Schulze (Tangerine Dream): Upon his release from prison for the murder of an elderly woman, a twice convicted killer (Rudolf Götz) continues to cut his path through Austria. After a failed attempt at murder, he runs and finds shelter in a secluded house in the countryside. A house inhabited by a disabled young man in a wheelchair, a middle aged woman, and her teenaged daughter. Haunted by fear and paranoia, the killer deals with his situation in the only way he knows how… Barrel will be performing a high-definition, anamorphic transfer from the original 35mm negative, with supervision by director Gerald Kargl. Expect the disc to be full of extras, including a commentary track by director Kargl interviewed by German film scientist Dr. Marcus Stiglegger, and a Kargl interview conducted by Jörg Buttgereit.
So there is a lot to keep your eyes open on Barrel Entertainment. Underground film fans be aware...
PS: A German DVD-edition of NEKROMANTIK and NEKROMANTIK 2 is available via www.joergbuttgereit.de, including different bonus material.
CD